Recently, Boan Biotech published its first Environmental, Social and Governance Report ("ESG Report"). Responding to internal and external stakeholders' focuses and concerns on company development, this ESG Report fully demonstrated Boan Biotech's sustainable strategies, measures and achievements while carrying out various businesses in 2022 concerning the three aspects of operational, labor and environmental responsibilities.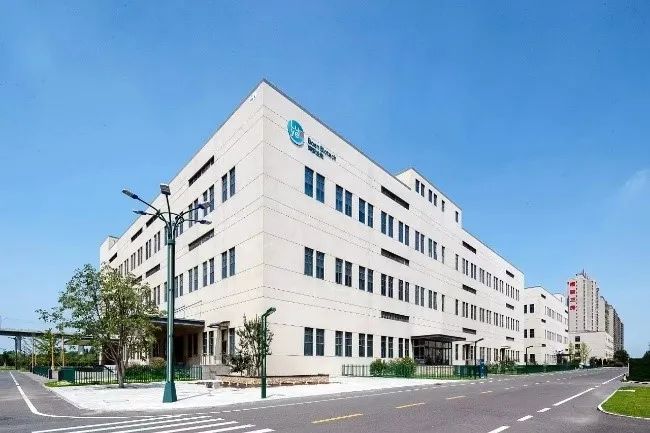 Boan Biotech
Boan Biotech is a fully-integrated biopharmaceutical company committed to developing, manufacturing and commercializing high-quality biopharmaceutical products in China and overseas. Over the past years, Boan Biotech has made stunning achievements in various business lines. During the reporting period, the company's revenue was approximately RMB 516 million, representing a strong growth of 225% from 2021. In terms of research and development, the company successfully launched one product with high efficiency and made positive progress in multiple innovative antibodies and biosimilar drugs. In addition, on December 30, 2022, the company was successfully listed on the Main Board of the Stock Exchange of Hong Kong, and was recently approved to remove "B" marker from its stock name.
Boan Biotech's rapid growth comes not only from hard-core capabilities of business operation, but also soft power in innovation and science research, green manufacturing and employee development, which have laid a solid foundation for high-value growth.
Operational responsibility
Meeting clinical demands with innovative therapeutic solutions
Since 2022, Boan Biotech's independently developed Boyoubei®(BA6101), the world's first denosumab biosimilar, has obtained approval to commercialize; among its pipeline products, one drug candidate is under pre-market review, two have made key progress in phase III clinical trials (including BA5101, the world's first dulaglutide biosimilar that has entered phase III clinical trial), and another five innovative antibodies have entered phase I clinical trial.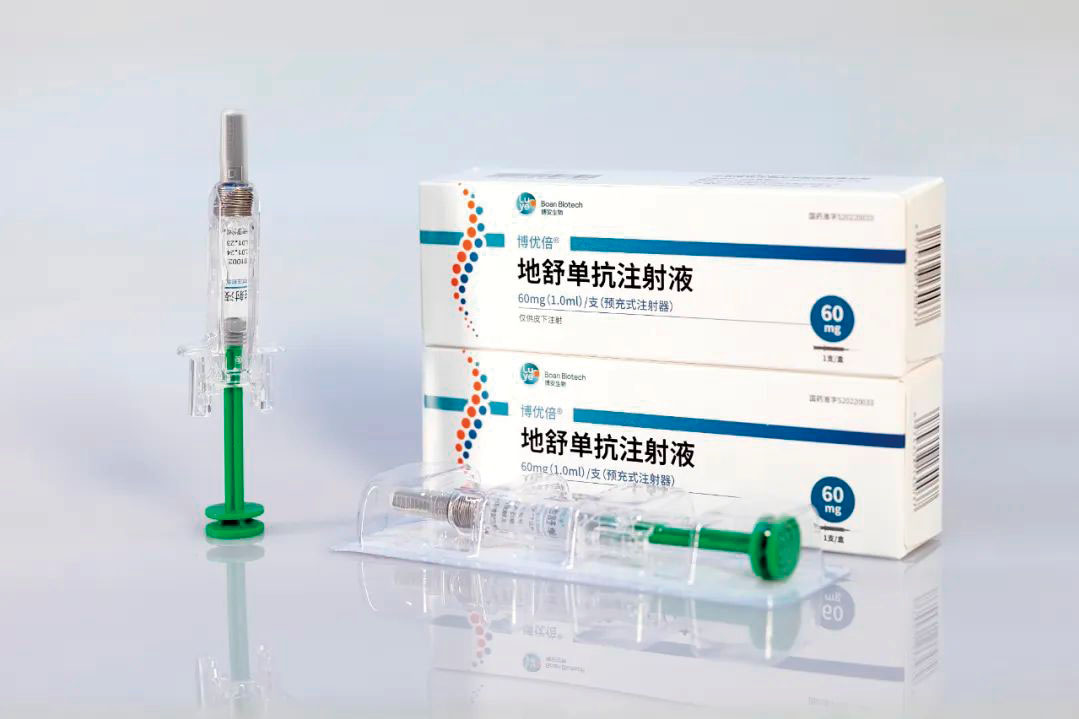 Boyoubei® (Denosumab Injection)
Great R&D efficiency relies on highly efficient in-house innovation capabilities. By leveraging the capabilities of the three technology platforms - Human Antibody Transgenic Mouse and Phage Display Technology Platform, Bispecific T-cell Engager Technology Platform and Antibody-drug Conjugates ("ADC") Technology Platform - Boan Biotech has established a compressive and diversified product portfolio to meets various emergent clinical needs.
In the meantime, with an emphasis on intellectual property protection, Boan Biotech saw an explosive growth in the number of patents in 2022. During the reporting period, Boan Biotech has made a total of 70 patent applications worldwide, including 25 registered patents and 45 pending patent applications; 45 PRC and overseas trademarks were validly registered, while 48 trademarks were pending. In-depth integration of intellectual properties with new drug development contributes to the value chain of sustainable development.

A Brief Look at Patents Granted to Boan Biotech
Environmental responsibility
Green manufacturing guarantees the delivery of high-quality drugs to patients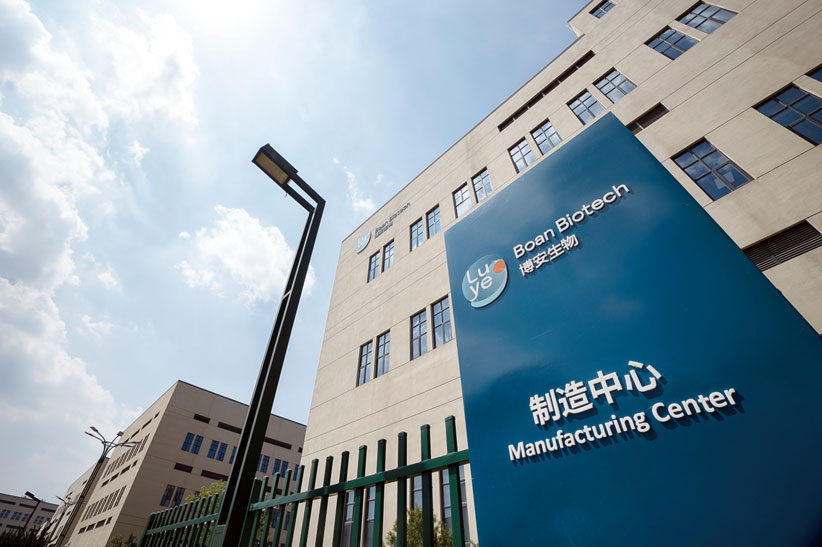 Boan Biotech Manufacturing Center
Green development is the foundation for high-quality industrial development and an essential factor that drives a company's sustainable growth. Strong manufacturing capability is a key pillar for Boan Biotech to sustain high-quality supply and enhance productivity as well as efficiency in the R&D and commercialization of drugs. The company sticks to the highest international standards in production and quality control with a comprehensive quality management system that complies with relevant standards in China, the U.S. and Europe.
Besides, Boan Biotech incorporates the EHS management concept of "focusing on environment, health and safety and ensuring sustainable development" into the whole manufacturing and operation processes. To achieve green, healthy, and sustainable development, internally, the company emphasizes technological transformation and resource recycling to establish a clean, efficient, low-carbon, and recycling industrial system step by step; externally, it makes efforts to clean and improve its production facilities and buildings and enriches plants in the industrial park, aiming to establish a green and ecological park environment that minimizes energy consumption and waste discharge.
People orientation ensures employees grow together with the company
Committed to becoming a world-leading bio-pharmaceutical company, Boan Biotech has set up subsidiaries in China, the U.S. and Singapore, and built a growing international team for R&D and business development to support its rapid business growth.
The cultivation of excellent talents and the development plan for diversified talents are crucial for our long-term development and sustainable operation. In this regard, we have made various training and development plans, drawing the strength of a strong talent pool to meet our business development demands today and beyond. Boan Biotech continues to improve its training system and provides employees with differentiated training directions, such as innovative R&D, technical expertise and corporate management, in an effort to encourage employees to choose their future career paths and fully realize their potential and empower their self-worth.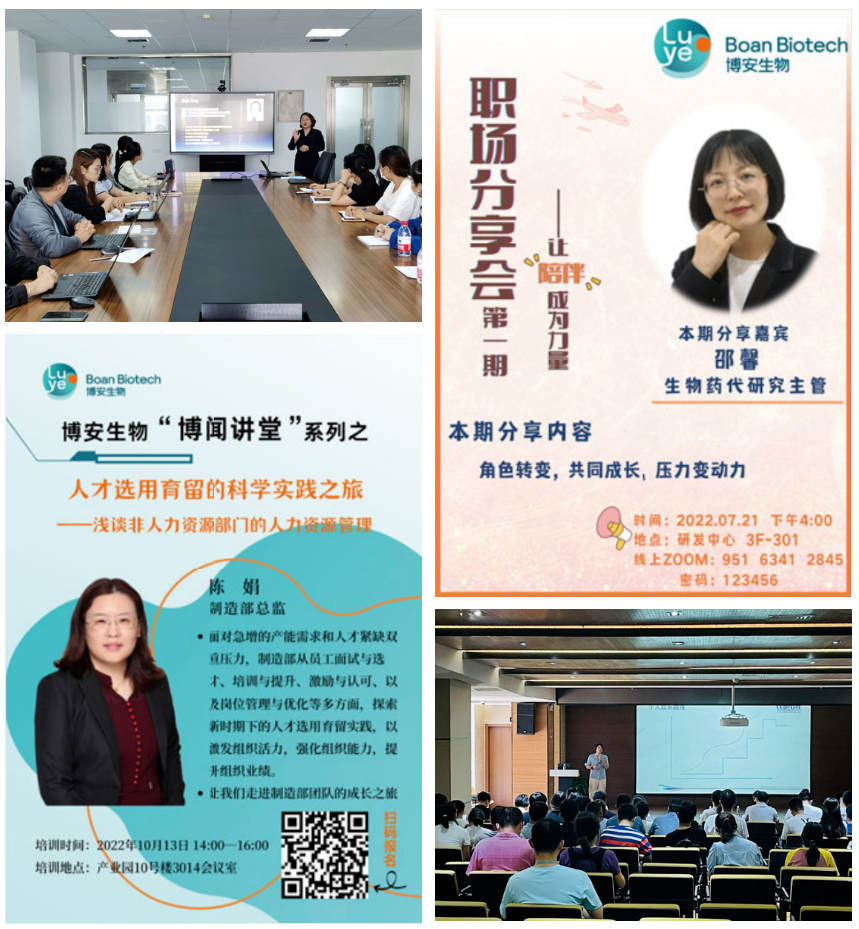 Boan Biotech's "Bowen Lecture Hall" training and lecture activities
In terms of employee care, Boan Biotech has made diligent efforts to create a caring and friendly working environment. In addition to the basic benefits required by the government, the company has offered employees with a range of "upgraded" welfare benefits to develop employees to their full potential. Furthermore, the company has organized a variety of activities to enhance employee's physical fitness, promote their communication, and facilitate their physical and mental health.
Thanks to the outstanding achievements in such aspects as scientific research and innovation, green manufacturing and employee development, Boan Biotech has won a number of honors and awards:
In February 2023, the company's self-developed Boyoubei

®

(Denosumab Injection) was selected as "Top Ten Progresses in China's Medical Biotechnology 2022";

In June 2022, the company was ranked among Top Ten of the "Future Healthcare VB100 - TOP 100 China's Innovative Biomedicine Companies" and was rated as one of the unicorns in the biomedical sector;

In August 2022, the company was ranked among "2022 China Biopharma Industry Value Ranking - Top 20 Most Influential Antibody Companies" and was awarded the title of "2022 Most Innovative Biotech Company with Powerful R&D Strength" in December of the same year.

In addition, Boan Biotech was recognized as the "National High-tech Enterprise" and "2023 Yantai Municipal Green Factory", and was awarded the honorary title of "Safe Production Culture Demonstration Enterprise" by the High-tech Zone Branch of Yantai Emergency Management Bureau.