Boan Biotech recently announced that the results of phase 3 clinical study for its in-house developed Denosumab Injection (BA1102), a biosimilar product for oncology indications, will presented at the 2023 American Society of Clinical Oncology (ASCO) Annual Meeting in the form of a poster during the meeting.
ASCO Annual Meeting is the world's grandest and most authoritative meeting on clinical oncology with the highest academic level. This year's ASCO Annual Meetings will be held online and offline in Chicago during June 2-6, 2023 local time, with more than 40,000 professionals expected to attend.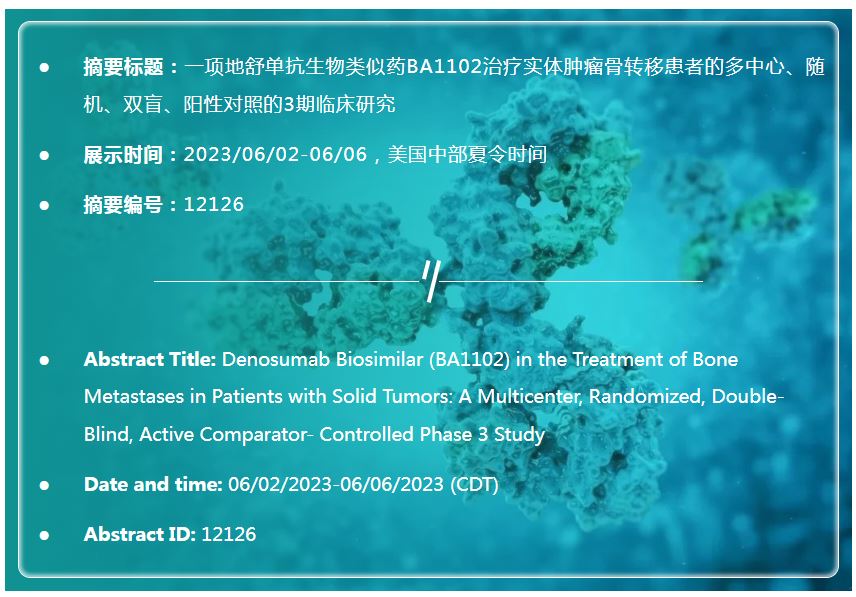 Note: Denosumab Injection (BA1102)'s previous project code was LY01011.
BA1102 is a biosimilar of XGEVA®. Its active ingredient is denosumab, a fully human IgG2 anti-RANKL monoclonal antibody. For patients with bone metastases from solid tumors and patients with multiple myeloma, denosumab can delay or reduce the risk of skeletal-related events(SREs) (e.g. pathologic fractures, spinal cord compression, bone radiotherapy or bone surgery). Denosumab also has a definite efficacy for adults and skeletally mature adolescents with unresectable giant cell tumor of bone(GCTB). Denosumab has been used for more than 10 years with abundant clinical evidence. It has been recommended by multiple guidelines in China and abroad.

The results to be presented at this ASCO Annual Meeting are the results of phase 3 clinical study for BA1102 conducted in China. The study was led by Professor Hu Xichun, Director of the Department of Medical Oncology of in Fudan University Shanghai Cancer Center, with the participation of more than 60 Grade III Level A hospitals in China. A total of 850 patients with bone metastases from solid tumors were included and randomly assigned 1:1 to receive either BA1102 or XGEVA® every four weeks. The primary endpoint of the study was the natural logarithm of changes in urinary amino-terminal cross-linking telopeptide of type I collagen (uNTx) corrected for urine Creatinine (uNTx/uCr) at week 13 from baseline ; Secondary endpoints included changes in serum bone-specific alkaline phosphatase (s-BALP) from baseline, skeletal-related events(SREs), safety, immunogenicity, and pharmacokinetics, etc. The study results showed that after 3 months of treatment with BA1102 or XGEVA®, the 90% confidence interval for difference in the least squares mean of the natural logarithm of uNTX/uCr change at week 13 from baseline between the two treatment groups was within the equivalence cut-off (-0.135, 0.135), reaching the primary endpoint. No inter-group differences were observed in other secondary endpoints, such as percentage change of s-BALP from baseline, SREs, pharmacokinetics (PK), immunogenicity and safety. The results of this study showed that the clinical efficacy, safety, immunogenicity and PK of BA1102 and XGEVA® in patients with bone metastases from solid tumors were similar, proving the similarity between BA1102 and XGEVA®.
Dr. Dou Changlin, R&D President and Chief Operating Officer of Boan Biotech, noted: "The inclusion of results of phase 3 clinical study for BA1102 conducted in China in ASCO indicates that the relevant clinical data of this product has been recognized by top international academic conferences. It demonstrates that there are urgent clinical application needs for this product in the field of oncology and it enjoys international market potential.It marks another achievement of Boan Biotech based on strong R&D capabilities. The R&D process of BA1102 strictly followed relevant guidelines for research on biosimilars, and the results of the phase 3 clinical study conducted in China demonstrated that the safety and efficacy of BA1102 were highly similar to those of the reference product, with no clinical difference. We look forward to sharing more high-quality research results with global peers in the future, and accelerating meeting the clinical needs."

About the Global Development of Boan Biotech's Denosumab Injection (BA1102)
The Biologics License Application (BLA) for Denosumab Injection (BA1102) was accepted by the Center for Drug Evaluation (CDE) of the National Medical Products (NMPA) on March 20, 2023, and this is the third biologic drug for which Boan Biotech has filed a BLA to the NMPA. Two products, Boyounuo® and Boyoubei®, had been successfully commercialized previously, among which the active ingredient of Boyoubei® is also denosumab, which is intended for osteoporosis in postmenopausal women at high risk of fracture. It significantly reduces the risk of vertebral, non-vertebral, and hip fractures in postmenopausal women.
At the same time, the international multi-center phase 3 clinical study for BA1102 and Boyoubei® (BA6101) has been launched simultaneously in Europe, the United States and Japan, and the enrollment of first subject has been completed recently. Boan Biotech's biosimilar, Denosumab Injection, will be compared with the reference product in terms of efficacy, safety, pharmacokinetics and immunogenicity in the study. After the completion of phase 3 clinical study, BLA can be submitted to EU EMA, US FDA, Japan PMDA respectively for all approved indications of the reference product.