Yantai, September 27, 2023 - The results of a Phase I clinical trial comparing BA1102, a biosimilar candidate developed by Boan Biotech, with the reference drug denosumab (XGEVA®), were recently published in Journal of Bone Oncology.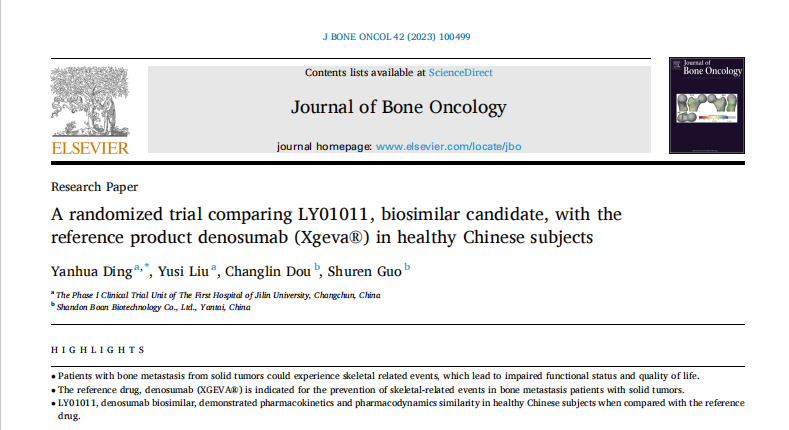 BA1102 is a biosimilar of XGEVA. Its active ingredient is denosumab, an anti-RANKL immunoglobulin G2 fully human monoclonal antibody. Denosumab is able to delay or reduce the risk of bone-related events (e.g. pathological fractures, spinal cord compression, bone radiotherapy or bone surgery) in patients with bone metastases of solid tumors or multiple myeloma, and has been proved to be effective in adults and adolescents with unresectable giant cell tumors of bone. Denosumab has been used in clinical practice for more than ten years, and is recommended by many prestigious guidelines in China and abroad.
The Phase I clinical trial of BA1102 in China was led by Professor Yanhua Ding from the First Hospital of Jilin University. It was a randomized, double-blind, single-dose, and positive parallel-controlled clinical trial designed to compare the pharmacokinetics, pharmacodynamics, safety, and immunogenicity of BA1102 versus the reference drug in healthy Chinese subjects. A total of 168 subjects were enrolled in the trial. They were randomly grouped at a ratio of 1:1 to receive a single dose of 120 mg BA1102 (n=85) or the reference drug (n=83) through subcutaneous administration.
All primary and secondary endpoints were reached. The results showed that BA1102 is bioequivalent to the reference product in terms of pharmacokinetics and pharmacodynamics in healthy Chinese subjects who received a single abdominal subcutaneous injection of this drug or the reference drug at a dose of 120 mg. Besides, in comparison with the reference drug group, the BA1102 group demonstrated good overall safety and tolerability as well as similar immunogenicity and safety profiles. The publication of this study demonstrated the recognition of its quality and data by the international peers of the research team. It also demonstrated their recognition of China's ability to develop high-quality biosimilars.
BA1102 is the third biologic drug for which Boan Biotech has filed a Biologics License Application (BLA) to the China's National Medical Products Administration (NMPA). The application is currently under review. The results from a Phase III clinical trial of BA1102 conducted in China were presented in a poster at the 2023 Annual Meeting of the American Society of Clinical Oncology (ASCO).
Two products of Boan Biotech have been launched in China: Boyounuo® and Boyoubei®. The active ingredient of Boyoubei is also denosumab. It is indicated for treating osteoporosis in postmenopausal women at risk of fracture. Boyoubei can significantly reduce the risk of vertebral, non-vertebral and hip fractures in postmenopausal women.
In addition to China, multicenter Phase III clinical trials of BA1102 and BA6101 are also being conducted in Europe, the United States, and Japan. Those studies are designed to compare Boan Biotech's biosimilars with the reference drugs for their efficacy, safety, pharmacokinetics, and immunogenicity. The company plans to file BLAs for BA1102 and BA6101 to EMA, FDA, and PMDA regarding all the indications approved for the reference drugs in respective markets upon successful completion of those clinical trials.